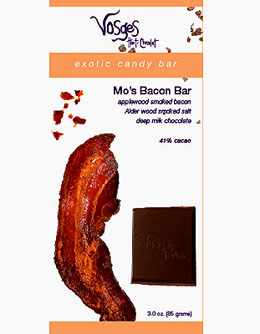 I make a monthly trip to the Fresh Market. If I had my druthers, I would shop there weekly. Chris and I would eat beautiful meals - the diversity on our plate would be show-stopping. But, then I remember that I live around the corner from budget-friendly Publix. Needless to say, Publix usually wins.

So, a few weeks ago - I believe it was my May trip... I found this. Vosges Mo's Bacon Bar. It's chocolate. It's bacon. IT'S TOO MUCH.

Y'all, I love chocolate and I love bacon -- but the two together? Milk chocolate and applewood smoked bacon? No, no and no.

Why would you eat this? I considered that it might find purpose in a chili recipe? But really? I just don't like it.